Léanie Kaleido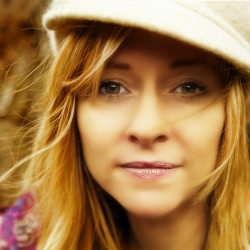 click to enlarge
Once labelled by Play Music magazine as 'audio ganja', Kent/Sussex-based singer-songwriter Léanie Kaleido interweaves soothing vocals and quirky lyrics with infectious melodies that will indelibly worm their way into your head and take up residence permanently.
Her unique style is mellow and wistful but slightly warped; sometimes gentle, often dark songs, peppered with tongue-in-cheek ditties about exploding breast implants, a travelling witch, Doctor Marten boots and recurring dreams.
Influences have come from a variety of paths, including the blues music played by her father (Top Topham of The Yardbirds), and from a childhood diet of Bob Dylan, Joan Armatrading, Kate Bush and Elton John, to the Stone Roses, the Cocteau Twins, Tori Amos and PJ Harvey, as well as her love of classical music, and her study of literature and philosophy that have helped shape her lyrics along the way.
Her début album, Karamelién, and the brand new follow up, Quicksands & Shadows, have both received national airplay and excellent reviews in the press.
R J Ellory, musician & international bestselling author, sums up the new album: "Quintessentially English and beautifully-constructed, these tracks invoke the very best of our homegrown singer-songwriters. Think Beverley Craven, Lily Allen and Dido, and you're on the right road, but Léanie is never anything but fresh and original. Listen, then listen again, and you'll be captured...'
Last played:
The Grey Lady Music Lounge, Sunday 18th November 2018
Osia Seal, Leanie Kaleido, Katy Virgoe, Duch jo