Latchkey Lover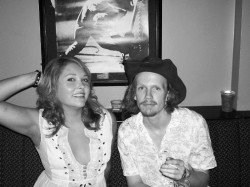 click to enlarge
Latchkey Lover describe themselves as an alternative folk trio. Founder members Belinda Moreau and Max Thomas each bring a very different musical interest to the band.
Belinda Moreau (vocals) has taken influences from Indie bands such as The Strokes, the Yeah Yeah Yeahs, The Kills, The Libertines, The Kings of Leon, The Go! Team... Max Thomas, the guitarist, hadn't heard much that was produced after 1969 and draws his influences from the likes of Bob Dylan, John Lee Hooker, Townes Van Zandt and Neil Young.
Together, they discovered a sound that was closer to a lot of alternative folk being produced both sides of the Atlantic in the present day. Music like Joanna Newsom or CocoRosie. The guitar fingerpicking is both delicate and bouncy which offers pleasant contrast to the atmospheric rich tones of Catherine's Cello arrangements, and the vocals too are delicate, with a haunting, little-girl vulnerability that slips away from the expected melody. Latchkey Lover concocts stories of brokenhearted Jacks, desperate Queens and abnormal Hearts. It's a strange but compelling deck of cards; kooky, simple and vulnerable.
Last played:
The Grey Lady Music Lounge, Sunday 29th November 2009
Ollie B, Chris Pope, Latchkey Lover, Danny Kyle & Pete Shaw