KLAUS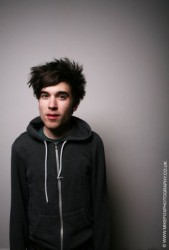 click to enlarge
Meet Brighton/Tunbridge Wells based singer songwriter KLAUS, (Formerly reffered to as Klaus Says Buy The Record). Klaus is the recognized winner of the Red Stripe Music Award 2008, and is also known for his acheivments in reaching the final stages of Channel 4's 'Orange Unsigned Act' last spring.
Since last summer, Klaus has toured and performed with the likes of Get Cape Wear Cape Fly, Jo Lean And The Jing Jang Jong, Dirty Pretty Things, and Youth Movies. He has also performed at major festivals including Brighton's Great Escape, Lovebox and Offset. In August 2009 Klaus signed to Sheffield based indie label Small Town Records, his debut release "Lights Out" was recorded last summer and was released September 21st 2009. Klaus' debut EP received critical alclaim and is available Nationwide now.
In February of of this year, Klaus recorded his first single 'Belly Of The Sea' which is released nationwide May 24th.
Last played:
The Grey Lady Music Lounge, Sunday 23rd May 2010
KLAUS, The Paul Dunton Ensemble, Annaca, The Matt Rivers Band