John McLane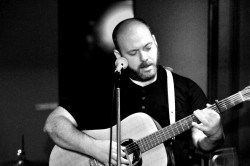 click to enlarge
"After many years spent as a hermit in the studio recording electronic, ambient and shoegaze music, John has returned to a more acoustic 'unplugged' sound. It has been a circular journey from unplugged, to shoegaze, to unhinged, to shoegaze-folk and back to unplugged.
Inspired by a passion for poetry & lyrics, John has provided lyrics for other artists, including Marina Celeste (Nouvelle Vague).
Inspired by songwriters like Mark Kozelek, Nick Drake,Pete Greenwood, Neil Halstead, Damien Jurado, Townes Van Zandt et al., John has previously performed across London/South East and has new songs to perform and record.
A Digital EP is coming, featuring Pete Greenwood (Mojave 3,Starsailor)"
Last played:
The Grey Lady Music Lounge, Wednesday 25th April 2018
John Forrester, John McLane, Paul Monham, Ryan Weeks