Jim Boggia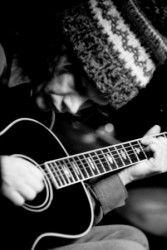 click to enlarge
'Misadventures In Stereo', the third album by widely lauded singer/songwriter/multi-instrumentalist Jim Boggia, is unmistakably the work of a true believer and pop craftsman who's closely acquainted with music's capacity for transcendent uplift.
His work has been embraced by numerous fellow artists and kindred spirits, many of who have lent their talents to Boggia's albums. 'Misadventures in Stereo' features a cameo appearance by Big Al Anderson of NRBQ as well as a songwriting collaboration with legendary 'Pet Sounds' lyricist Tony Asher. His sophomore release, 'Safe In Sound', featured key contributions from such notable admirers as Aimee Mann, Jill Sobule, MC5 guitar hero Wayne Kramer, Attractions drummer Pete Thomas and '70s cult-pop icon Emitt Rhodes.
Boggia's first two releases, 2002's Fidelity Is the Enemy and 2005's Safe In Sound, established him as a critical favorite. Uncut wrote "Jim Boggia comes on like a muted power-pop shaman, channeling myriad melodic styles (cf. Rubber Soul-era Beatles, Matthew Sweet) into a cosy little world of sad reverie and eight-track stereo memories." Harp magazine described his songs as "captivating," adding that he "delivers the sort of intelligent, melodic pop music that ought to be a staple of radio playlists." Paste called Boggia a "first-rate audio architect" and praised his use of "lush instrumental flourishes, intriguing sound bites and naturalistic found sounds." The Washington Post made note of his "soulful voice, experimental instrumentation and an encyclopedic knowledge of pop music."
Last played:
The Grey Lady Music Lounge, Sunday 28th October 2012
Hero Blues, The Paul Dunton Ensemble, The Breretons, Special guest Jim Boggia