James & Grace Carroll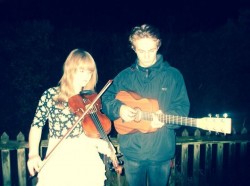 click to enlarge
This brother and sister duo found their passion for music and storytelling through exposure to artists like Bob Dylan, Nick Drake and Van Morrison from a young age. James first picked up a guitar aged 10 and, as well as playing violin, Grace followed suit not long after.
In his younger years James fronted the band Cannon Woods, a folk/rock act that featured at local festivals and headlined shows at St Mary's Church in Ashford. While writing and working on songs for the band, Grace would sing certain harmony lines and help to improve James' material. They soon realised that the close harmony singing and the combined power of these wordsmiths could become a killer combination. Some songs they write together, others they bring to the table, but the authenticity of this act cannot be denied.
The songs like Atlantis use fairy tales to parallel modern day love songs, while others like July directly express the passionate anger of love. Other influences include Johnny Flynn, Fela Kuti, John Martyn, Edward Thomas and S.T Coleridge.
James says of their music: 'We want people to listen to the songs and relate to the stories we tell; try and apply them to their lives rather than ours. After all, who's to say any of them have any relevance to us?'
James & Grace Carroll on Soundcloud
Last played:
The Grey Lady Music Lounge, Wednesday 20th June 2018
Gronk, James & Grace Carroll, Leon Benson, Alex Beharrell