Isabella Coulstock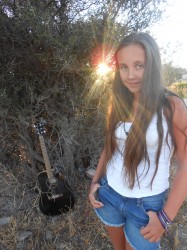 click to enlarge
Isabella is a country singer/songwriter from Bromley who composes her own songs on the guitar and piano. She wrote her first song, "Crazy Cowboy" when she was 13 and was invited to Bob Harris' home studio to record an 'Under The Apple Tree' session.
In 2015 Isabella played her first live set at The Zed Cafe in Sevenoaks, and has continued to perform at different venues and festivals ever since.
Throughout this year she has opened for 'Worry Dolls' on their UK tour performing for a sold out crowd at the Trinity Theatre, she made her debut at the legendary Bedford in Balham, swiftly followed by her debut at The Pizza Express Live Room in Maidstone, supporting 'Noble Jacks'.
More recently, Isabella has supported 'Orfila' at both The Grey Lady in Tunbridge Wells and at their 5th anniversary show in Canterbury. She has also enjoyed performing at this year's local festivals, charity and fundraising events.
Some of Isabella's musical influences include, Kacey Musgraves, Brandy Clark, Brad Paisley, Johnny Cash, Miranda Lambert, Chris Stapleton, and Sheryl Crow.
http://www.isabellacoulstock.com/
Isabella Coulstock on Facebook
Last played:
The Grey Lady Music Lounge, Wednesday 26th September 2018
Artist (TBC), Amber Titchener, Aaric Snook, Isabella Coulstock