Inbar Starr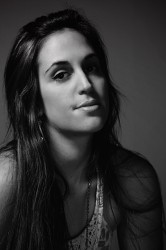 click to enlarge
Inbar Starr's soon-to-be-released EP, her first official album, is a captivating collection of confessional songs that offers a window into the life and mind of this talented and eclectic singer-songwriter and multi-instrumentalist.
Starr has always had great passion for music. Born in Israel, she sang before she could talk, and wrote her first original song when she was just seven.
As a teenager, drawing inspiration from a diversity of musical influences such as Alicia Keys, Alanis Morissette, Neil Young, Avril Lavigne, Blink 182 and Etta James, Inbar taught herself to play the guitar, piano and ukulele and took lessons for trumpet and drums. She has not stopped writing songs ever since.
Her big move to Los Angeles came in 2011, where she set out to connect with other musicians and develop herself further as an artist.
This pursuit got a big boost in 2013 when she was endorsed by Daisy Rock Guitars and won a YouTube competition held by Grammy Award-nominated artist Jamie Cullum, which gave her the opportunity to meet Cullum at his show in Belgium and inspired Starr to embark on a small European tour of her own.
In 2016 she was recruited to sing background vocals and play harmonica on a song by Taboo from The Black Eyed Peas called "The Fight." In 2017 they performed it at the Yahoo studios: The Fight Video.
It's been a long, winding road leading to this moment, and Inbar is now putting the final touches on her highly anticipated debut EP, slated for release later this year.
In the meantime, check out her first single, 'If It Feels Right', available as a free download and streamable on all social platforms. You can also watch her 'Acoustic Series - Originals Unplugged' on her YouTube channel, in addition to previews and behind the scenes videos of her upcoming EP.
https://www.youtube.com/InbarMusic
Last played:
The Grey Lady Music Lounge, Sunday 19th May 2019
Coney Island Maybe, Inbar Starr, James Kirby