I Am Chris James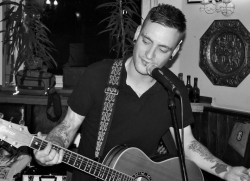 click to enlarge
Chris James is a Singer/Songwriter, Bassist and Guitarist from High Brooms.
Taking his earliest influences from The Offspring, 999, Lit, Elvis and Nirvana he began to play guitar aged 14.He has played in several bands, notably Eleven Days Ago and Those Weirdo's- the latter as lead singer playing bass.
Later influences on Chris include Johnny Cash, Chuck Berry, Social Distortion, Alkaline trio, Bouncing Souls, Rancid and King Prawn.
However Chris has evolved musically from purely punk to a crossover style that embraces Punk, Ska and Rock N Roll. Presently operating solo in a project he refer to as I AM CHRIS JAMES, plain speaking Chris is an original, no BS, straight-up guy who loves live music-both giving and taking. You are as likely to find Chris in the audience as on the stage at venues in and around Tunbridge Wells. Chris is serious about his music, has sufficient self-belief to pursue this simply for the great pleasure he derives from performing live whilst retaining the ambition to reach a wider audience. If you want to feel the earth move in mysterious ways try "Archers and Lemonade" by Chris James.
I Am Chris James on Soundcloud
Last played:
The Grey Lady Music Lounge, Tuesday 19th August 2014
Chris I Am, Lily Denning, Arcelia, Marie White