Holm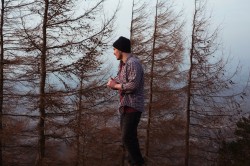 click to enlarge
Milton Keynes based singer, Freddy Armstrong, began writing songs back in the spring of 2012. Drawing on influences such as José González, Red Hot Chilli Peppers and Jeff Buckley, Armstrong soon compiled a collection of ethereal melodies accompanied by genuine lyrics. By the autumn, an E.P. was under way with help from friend and drummer, Ivan Pigott. The recording and production process brought together musicians and friends, and ultimately initiated the formation of what is now known as Holm.
Armstrong's delicate guitar strumming over unnecessarily complicated tunings are accompanied by his own velvet vocals, Této Parvanov's backing harmonies, Paul Howarth on bass, Ben Watson on guitar, Oliver Scheuregger on piano and Ivan Pigott on drums: despite being together for less than a few months, their energy and on-stage delivery indicates otherwise.
Motivated by the recent and successful release of their E.P., Carousels, Holm has already firmly established themselves as a group to remember, with praise and performance requests increasing by the day.
Described as "An alluring balance between ethereal, wintery harmonies, and the rustic like-ability of its thematic basis, Holm offers a mysterious experience that is both comforting and exhilarative. A mesmeric new sound.", Carousels is a collection of textured and uplifting songs whose sonic portrayal of family, friends and self-depiction is truly unique.
Currently concentrating on their E.P. promotion and, having already secured an impressive range of shows, Holm has had an exciting kickstart to their journey.
The rest, as they say, is the future.
Last played:
The Pheasantry, Pizza Express, Thursday 29th August 2013
The Paul Dunton Ensemble, Annie Chew, Holm, Towma