Henry Willard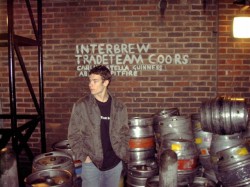 click to enlarge
21 year old Henry Willard is a lyric-driven, multi-instrumentalist based in South-East England.
Having first picked up a guitar at the age of 7, Henry has since progressed considerably to become one of only a handful of artists who focus purely on writing & recording slow, acoustic based melodies, entwined with deep, personal, heartwarming, clever, & often metaphorical lyrics with the pure intention to touch the hearts of his listeners, & within the comfort of his songs offer a safe place for his audience to relate to personal experiences.
14 years on from discovering The Beatles, which in turn led to the desire to idolize his new heroes at a very young age & learn to play the guitar, Henry has recorded 4 albums in total, with his first recording studio experience coming at the age of 11.
Having been 2 years since the release of the last solo album, 'This One's for Elliott...' in June 2006, Henry has refused to rush back into the studio & record sub-standard material, allowing his lyrics to develop naturally over time & undoubtedly pave the way for the hugely anticipated new album, 'Old Hadlow Road', released late October 2008, containing his very best work yet!
With influence taken from the likes of Counting Crows, Elliott Smith, Kevin Hearn, Brothers Creeggan, Everclear, Sara Evans & Barenaked Ladies, Henry has been back in the studio during the Summer of 2008 with a whole host of brand new songs to record, & a final result that was well worth waiting for!
'Old Hadlow Road' consists of 10 original heartwarming, slow, acoustic tracks built around beautifully personal & deep lyrics that ultimately once again offer Henry's listeners the chance to truly open up & feel safe in the comfort & knowledge that they are not alone, & that his songs shall always be there to relate to when in times of need.
The new album 'Old Hadlow Road' is currently available directly from CD Baby, iTunes, Amazon, Lala, & many more!
Last played:
The Grey Lady Music Lounge, Wednesday 12th May 2010
Nick Wilson, Henry Willard, Beckie Stoneham, Mark Chase