Hattie Webb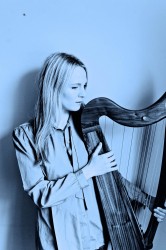 click to enlarge
Hattie is a singer songwriter who with her sister Charley, formed the band The Webb Sisters. Making music since childhood, Charley and Hattie went on to tour with Leonard Cohen for six years, performing over 400 concerts around the world.
The Webb Sisters have released three albums, achieving 'single and record of the week' on iTunes and BBC Radio Two. Their album 'Savages' won the International Music Award for 'Best Adult Contemporary Song' and was produced by their manager, multiple Grammy Award winner Peter Asher.
Hattie has also been featured on three live albums with Leonard Cohen and has collaborated with Sting, Glen Hansard, Steve Martin & Edie Brickel, Gotye, Rick Rubin, Natalie Maines & Katie Melua.
Hattie is currently working on her first solo album and will be playing new songs from this project.
Last played:
Hattie Webb, Tuesday 15th December 2015
Artist (TBC), Hattie Webb