Guy Osborn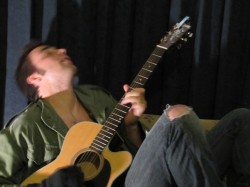 click to enlarge
Guy says "I have been playing the guitar for about six or seven years now. When I started I was taught by the incomparable Paul Cheese for a couple of years but otherwise am largely self taught. Last year I studied music at West Kent College for a while but I left because. Well, it's difficult to explain. It's a good department and I was learning. I guess there's just something about school that gets under my skin.
For years I have been plagued by the phrase 'bedroom guitarist' and it's frankly accurate. My experiences of playing live amount to a few jam nights, a couple of school gigs and I once busked on the steps of the Sacre Coeur. I made €16 but unfortunately in Paris that's just about enough for two pints of beer and not enough for a hostel bed . About the point when I quit school which was February of this year I started writing songs. Not millions of the things but I think there are a couple of pretty interesting ones amongst them.
I suppose one of the things that really accelerated my development as a musician was when someone introduced me to Grace by Jeff Buckley (also the rest of his catalogue). Since that point everything I have done musically has had at least a hint of Buckleyesque flavour to it if it isn't just a straight rip off. My earlier influences do shine through, though: Led Zeppelin, Steely Dan, Rodrigo y Gabriela, for example, as well as some things that I have discovered since then. I recently got hold of Getz Gilberto and a some of my songs have a distinctly Bossa Nova flavour.
Needless to say my aim at the moment is to get used to playing live, something which does rather terrify me, and to increase my profile. I'm also working on getting a band (or maybe two bands) together and doing some recording."
Last played:
The Grey Lady Music Lounge, Wednesday 7th December 2011
(Special guest from USA) Melinda Ortner, Guy Osborn, When Colours Collide, Sarah Tonin