George Young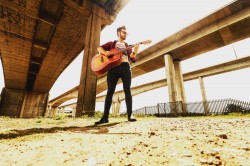 click to enlarge
"
I think I was inspired to become a songwriter out of frustration with guitar. I wanted more; it wasn't enough to be playing other people's stuff. I had to make my own songs, but it's the fact that I had to that really fascinates me, almost as much as the song writing process itself. I felt completely compelled to start writing songs, and after toying with a few songs I was mortally embarrassed about I wrote a song called 'I Believe in Action'. After this song, which I wrote just over a year ago now, it hasn't been the same and I write whenever I can. Good or bad, just to get better. I'm afraid I'm hopelessly addicted to it.
My limited experience of being on stage is something that I am taking action with, yet I find it unbelievably rewarding. People always seem to have a great time when they hear my songs and the idea that my music could have affected someone else blows me away a little bit. I like to think of it as sharing an experience with people which only makes me more passionate to write, perform and improve more.
In terms of influences I'm aware that I will leave many out because there's too many to name. I suppose most of them will be guitarists such as Jimi Hendrix, Johnny Marr, Wes Montgomery, Kurt Cobain, Noel Gallagher, and Nile Rogers. But then there are other songwriters such as Ray Davies, Amy Winehouse, Bowie, Springsteen, Stevie Wonder, or Paul Weller as well; but if not for my parents I may not even know these names! I shudder at that thought. They're responsible for my varied influences across Rock, Blues, Jazz, Soul, EDM, Reggae and beyond. And they've given me an amazing base of artists to go out and discover more music from, and ultimately the tools to develop into a songwriter."
https://www.youtube.com/channel/UCgCUCXq1VcdUQu1Zrb0z6qQ
https://www.instagram.com/mustng_george/
Last played:
The Grey Lady Music Lounge, Wednesday 11th December 2019
George Young, Kelly Bourne, Ryan Weeks