Funke & The Two Tone Baby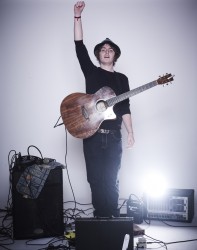 click to enlarge
Funke and the Two Tone Baby is a one man sonic explosion. Uncategorized and uncharted. Jammed halfway between frenzied alt-blues and metronomic dance beats. Combining guitar and harmonica with beatboxing and effects that seamlessly collide the organic with the mechanical to create a fresh sound of unstoppable rhythm and unrelenting melody.

Beyond the double microphones and trademark trilby is Dan Turnbull, a multi-instrumental battery spinning musical plates. A powerhouse to the ears and a blur to the eyes who smashes stage, festival and string after string whilst sweeping up audiences and dropping jaws from Boomtown Fair to Kendal Calling and Secret Garden Party to Convoi de Fete (NL).

Underpinning performances is 'Balance', released summer 2015 and heralded as 'a masterpiece of an album' by Louder Than War. Balance is a record that mixes musical mastery with an unhinged romp and a tour de force of powerful songwriting, heavy production and a 'superb collection of musical vignettes' (R2 Magazine). You'll hear a full band before you see one man behind a wall of sound, so move your feet and dance off your face.
http://www.noisetrade.com/funkeandthetwotonebaby
Funke & The Two Tone Baby on Twitter (@funke2tonebaby)
Funke & The Two Tone Baby on Facebook
Last played:
The Grey Lady Music Lounge, Wednesday 27th January 2016
Gronk, Paul Wheeler, Sound Sanctuary, Funke & The Two Tone Baby