Fate The Juggler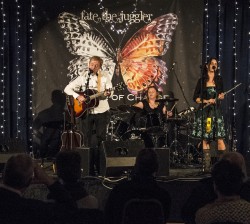 click to enlarge
Performing from an original 5 piece band to a trio is not a problem for this multi-instrumentalist outfit.
The trio consists of Rob Spiers, vocals, acoustic guitar, banjo. Linze Maesterosa, vocals, flute, clarinet and saxophone. Kirsteen Bristow, electronic wave drum.
Described by one record reviewer as 'Folk' because they use acoustic guitars and 'Rock' because they use electric guitars, FATE THE JUGGLER are happy to occupy the space between…and to stretch those boundaries to follow their muse.
With three albums, one live DVD and two EPs released to date, original music by Fate the Juggler has been captivating audiences since 2010.
Fate the Juggler are currently in their studio recording a third album which they hope to release later in 2017.
Last played:
The Grey Lady Music Lounge, Tuesday 25th July 2017
Fate The Juggler, Lachlan Daly, A mystery guest! , Sorrel Nation