Elly O'Keefe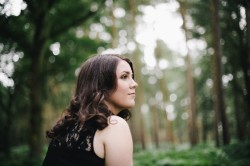 click to enlarge
"This fresh voice has every reason to find an international audience as broad and enthusiastic as she has found at home."
This quote from Nicki French Davis of the Irish Examiner perfectly describes the bright future that lies ahead for Irish singer/songwriter Elly O'Keeffe, whose unique and awe-inspiring vocal talent has captivated audiences both at home and abroad. Elly first made her mark on the Irish music scene at a very young age, singing in various venues around the country with her family band and giving her future fans the very first taster of her one-of-a-kind vocal stylings. From these early beginnings performing in local venues to her recent move to London where she is currently working with producer Joe Hirst (Ian Brown, Beth Gibbons) on her second album, this young artist is finally ready to bring her remarkable talent to the worldwide stage.
While Elly's stunning vocal has earned comparisons to legendary chanteuses like Eva Cassidy and Janis Joplin, her voice is immediately recognisable by her earthy tones and soulful melodies; two particular qualities that make her stand out from the crowd. The raw and untainted nature of her talent is emphasised further by the use of her natural accent during performances. Such honesty and purity is also reflected in this young artist's addictive personality and effortless charisma, which is evident both on and off stage.
Elly's folk-based brand of music has developed massively since she first began writing in 2006. Although her debut album 'When We Live' gained recognition and acclaim with both national radio DJs and music lovers in Ireland, her upcoming album promises to showcase her development both as a musician and a skilled, insightful songwriter. Aside from featuring a brand new selection of songs which contain the folksy guitar sounds she is known for, Elly's second musical offering also includes a number of tracks beautifully written on piano. Not only does this variety reflect her progression as an artist, but it also showcases her versatility within the genre and a distinct musical intelligence.
Elly's growth as a musician has been observed not only by her fans, but also by many prestigious and legendary musicians such as Paul Brady and Fergus O'Farrell, who have shown a huge appreciation for the exceptional talents of this star in the making.
"Elly O'Keeffe. Earthy, passionate...deep and real in a world of musical confetti " Paul Brady
Last played:
The Grey Lady Music Lounge, Wednesday 3rd February 2016
Abi Hudson, Artist (TBC), Joe Ackerley, Elly O'Keefe