Elle Watson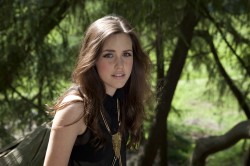 click to enlarge
Elle Watson is a young singer from Sevenoaks in Kent who is influenced by artists like Coldplay, Foster The People, Radiohead and Ben Howard.

She draws influence from her every day experiences when writing and singing and you can't help but be captured by her vocals and the passion with which she sings.

Elle's version of Bob Dylan's "All Along The Watchtower" and her bedroom cover of Taylor Swift's "Dear John" are starting to impact on YouTube with comments coming in on how beautiful and mesmerising Elle's voice is.

To hear Elle's version of All Along The Watchtower and for more information on Elle please visit her website.
http://www.youtube.com/ellewatsonsings
Elle Watson on Twitter (@ellewatsonsings)
Last played:
The Grey Lady Music Lounge, Sunday 23rd September 2012
Elle Watson, Louis Nevison, Frances Yonge, Tom Williams & The Boat