Elle Roberts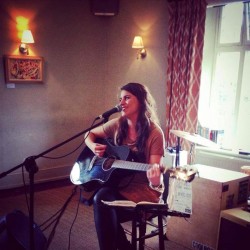 click to enlarge
Elle Roberts is a singer/songwriter from Platt in Kent.
Her songs are described as acoustic melodic storytelling with folk, blues and country influences; they are inspired by relationships, love, memories and the everyday questions of life.
She has found inspiration from an eclectic mix of artists, ranging from the great story-telling of Bruce Springsteen, Frank Turner & Gaz Brookfield to the passionate melodies of Alanis Morissette, Lissie, and The Pierces.
Elle will be recording her EP by the end of the year and will continue to perform throughout the local area and London.
https://www.youtube.com/user/ElleRobertsMusic
Last played:
The Pheasantry, Pizza Express, Thursday 26th March 2015
The Paul Dunton Orchestra, I Am Aquitaine (feat. Elle Roberts), The Rosie Pennie Band