Donna Fullman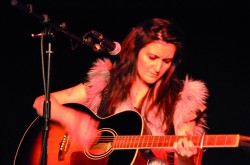 click to enlarge
British songstress in pursuit of Truth, Beauty and Wisdom.
Influences from the 60s and 70s sweep through her bittersweet authentically stunning songs – which embrace the unique vibes of folk, country and blues. With a myriad of influences in particular to the great Kirsty MacColl and Sandy Denny, Donna Fullman is set to become one of the great singer songwriters to emerge from the UK.
Born within the sound of the Bow Bells, Donna grew up with rock and roll from her fathers jukebox. Moving from London to Brighton and accepted into Brighton Institute of Modern Music with her voice as her only instrument, she immersed herself in learning the guitar and honing her songwriting skills.
Donna completed a tour of New England in 2011 following a debut performance at the annual Eve Rising Festival with shows in NYC, Boston and New Jersey. She has also supported folk darlings Seth Lakeman and Cara Dillon back home in the UK.
Donna's album 'Inner World' is out on May 21st as a CD or download.
Last played:
The Grey Lady Music Lounge, Wednesday 6th June 2012
Paul Dunton and Miriam Evans, The Freudian Slippz, Aaron David Frith, Donna Fullman