David House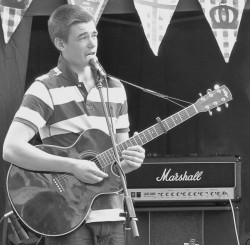 click to enlarge
David House is an 18yr old singer/songwriter based in Tunbridge Wells, where he finishing his last year of studies. He has been increasingly writing music over the past 12 months, creating an alternative acoustic sound with finger picking and guitar tapping, recently adding piano and backing vocals to enhance his sound.
"It was definitely my most nervous performance so far, but I absolutely loved it and can't wait to go back," said David after his debut at 'The Grey Lady' in March. "It's nice having a crowd to play to instead of just playing to my bedroom wall!"
Whilst playing in a folk rock band, acoustic song writing still remains his great passion, "I'm really excited about the new sounds I have started to create since my last gig, it gets really hard to put my guitar down sometimes. The neighbours haven't complained yet though, even when I'm still playing at 11pm, so something must be going right!"
Last played:
The Grey Lady Music Lounge, Tuesday 3rd September 2013
Marie White, David House, Bea Everett, The Charlie Rivers Band