Dave Harding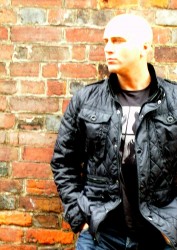 click to enlarge
Dave writes beautifully-crafted haunting and melodic songs about love. He has a diverse range of influences, from Burt Bacharach and Scott Walker to Morrissey, Elvis Costello and David Sylvian.
Dave's playing and songwriting style is also influenced by his classically-trained past. His early musical cv includes playing in orchestras and successful string quartets, as well as performing violin and piano concertos in major London venues.
Throughout his teens and twenties he played in a variety of rock, pop and folk bands going on to record 2 self-produced solo albums.
Songwriting is Dave's passion, and after rather a long break he is now getting his new and old songs out there.
"Previously I've recorded most of my songs with layers of orchestral and vocal arrangements. Now, I really want to strip everything back and just allow the melody, structure and lyrics to speak for themselves."
Last played:
The Grey Lady Music Lounge, Sunday 11th March 2012
Dave Harding, Alfie Noakes (from Sevenscore), Ross & The Wrongens, The Breretons