Dan Sumner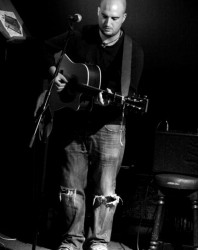 click to enlarge
Grounded in the folk storytelling tradition and in the spirit of singer- songwriters such as Richard Thompson and John Martyn, Dan Sumner sings about love, politics, murder and all that lies in between. He originally cut his teeth on the London folk scene and has since gone on to hone a unique style fusing his folk roots with elements of jazz, blues and rock.
Since the release of his first single, Sing me a lullaby, which featured on the Big Chill's album, Busking for solaraid, Dan has released several EPs, the most recent being 2015's Old Haunts, and has also performed live extensively around the UK and Europe supporting the likes of Dave Swarbrick (Fairport Convention) and playing at festivals such as the Big Chill. His most recent performance has been on the Ayala Show, broadcast on Irish TV in February/March 2016.
The Way we did and Old Haunts are available to buy on iTunes and Amazon mp3.
"Old Haunts is built on sparse, hand-picked acoustics that echo the more fragile retreats of Richard Thompson…reminiscent of the salty seaside sting delivered by British Sea Power"
Wow Kent magazine
Dan Sumner on Twitter (@DanSumnermusic)
Last played:
The Grey Lady Music Lounge, Wednesday 30th May 2018
Paul Crisp, Dan Sumner, Son Of Kirk (duo set)