Dani Blue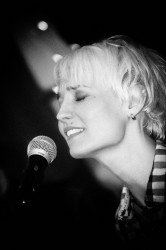 click to enlarge
Dani Blue is a solo singer-songwriter and 1 half of duo 'Dani Blue's Acoustic Soul'. Dani can be found, as part of Acoustic Soul and solo, gigging along the south coast, through Sussex and Kent up into London in pubs, cafes, restaurants and larger music venues.
Dani was chosen to represent Brighton at the UK Prezzo Live tour 2011 and opened the proceedings with a promotional gig at Prezzo Brighton before playing at the final show in London's Haymarket restaurant.
"We loved Dani's sound, it matched our ambience perfectly and were extremely excited she kicked off the UK tour" Prezzo CEO Jonathan Kaye.
Dani has produced an Acoustic Soul EP with jazz bassist, guitarist and Seahaven FM DJ Keith Baxter (Road Runners, Early Bird Special, John Harris Trio) and is currently recording and producing her own EP 'Tears Don't Fall'.
After time away writing and recording Dani is excited to be back performing at the Grey Lady Music lounge!
"Dani's music penetrates the depth of your soul and is performed with a sweet originality and electrifying stage presence"... Maddie Bridgett, The Maddie Live Show.
"Dani is an engaging performer with a charming presence on stage. Her songs have a great range and maturity and are presented with fluid subtle backing by bassist Keith Baxter. A perfect mix of instrumentation for an intimate acoustic venue. She will be back!"...Steven Price, Grub Cafe and Music Bar.
Last played:
The Grey Lady Music Lounge, Wednesday 17th April 2013
Francesca Tidd, Dani Blue, Funke & The Two Tone Baby, Freddy Green + Band