Cocos Lovers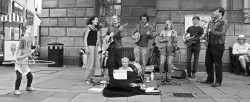 click to enlarge
COCOS LOVERS (pronounced co-cos, as in the Cocos Islands) are an eight-piece band made up of husbands, wives, brothers, sisters and friends that hail from Deal on the Kent coast.
Cocos Lovers formed in early 2008 and they have not looked back since. The summer of 2008 saw them feature at a number of festivals, as well as performing at various venues around the country. Towards the end of 2008 the band embarked on a European tour. The tour took them to Holland, Belgium, France, Germany and Spain. They busked and gigged they're way from place to place and stayed in communes and squats, where this unusual troupe of musicians were welcomed with open arms. The tour lasted three months and proved to be an incredible eye-opening experience, with many of their adventures inspiring new songs.
The band members play a variety of instruments including violin, tenor banjo, mandolin, guitars, flute and ukulele, which are often interchanged during they're live shows. Their songs also feature four and six part harmonies, which make for a rich, dynamic and interesting sound.
In 2009 the band released two limited edition EP's. Their debut EP, 'The Story of Lunatic Van Rogue', was released in April 09, with the follow up 'Time to stand' released in July 09. Both EP's were limited to a 1000 copies, which both sold out. The band have been described as 'one of Kent's most promising new bands'. They have also received radio play on Tom Robinson's BBC6 Music show, as well as various internet stations.
Their live shows are winning rave reviews and they have been described 'as one to watch' and 'one of the bands most likely to break from the folk circuit and into the mainstream'.
They performed to a capacity crowd in the Folk Tent at the award winning Lounge on the Farm festival, with a performance described by some reviewers as 'Legendary'. The band played a number of other festivals in 2009, such as, Small World, Coed Spring Gathering, Secret Garden Party, Emerge, Triban, Full Circle, Green Man Festival and Sellindge Festival. They also made appearances at Broadstairs and Sidmouth folk weeks.
They have supported artists such as 6 Day Riot, Mumford and Sons, Fionn Regan, Danny and the Champions of the World and Alessis Ark.
The band have just released their debut album 'Johannes' through Smugglers Records and shall be touring the UK in April, as appearing at a number of the UK festivals over the summer.
REVIEWS:
"Made up of husbands, wives, friends and siblings they succeed in creating a whirlwind of glorious unfettered joy in a way that is reminiscent of a more organic Noah And The Whale or Mumford And Sons imbued with greater urgency. Flutes, violins, tambourines and banjos are interchanged throughout an electrically charged performance, which even inspires a bout of crowd surfing from one eager soul. Their heavenly harmonies are a beautiful substance that soothes the soul one beat at a time. " -- CLICKMUSIC REVIEW @ Lounge on the Farm
"My good gosh!!! This band is one of our most exciting MySpace finds of recent memory. It would not be out of place to mention them in the same breath as the likes of Mumford and Sons, Laura Marling or Cherbourg. Or Christ!...even Leadbelly, Merle Haggard and Woodie Guthrie. Simply breathtaking. One of those acts that have the ability to grab your attention just by mic testing, hold your gaze by string tuning and simply take your breath right out of your body on the first song and send your heart raising round your body on the second. And you won't stop trying to catch it till well after they've left the stage." -- Bloody Awful Poetry
Last played:
The Grey Lady Music Lounge, Sunday 4th April 2010
Cocos Lovers, Josie Lee, The Paul Dunton Ensemble, The Momeraths