Clown BreakDown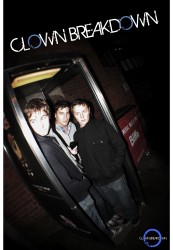 click to enlarge
Clown BreakDown are Ally Hamilton (guitar and vocals), Ben Crowhurst (bass), and Jack Kinnear (drums).
The band got together in the autumn of 2010. Ally and Ben have known each other from as early as playgroup and have managed to stay friends long enough(!) to join forces and play together in their former band Epiphany and others. Jack and Ally are best friends from secondary school and consequently all the boys have spent their formative years together.
After Epiphany grew apart, Ally and Ben wanted to start again with a punchy new sound that hit you and was difficult to ignore. Jack -- an up-and-coming enthusiastic drummer -- was recruited for this new project. A dramatic and edgy sound was an important starting point for the feel of the new band. The recently recorded E.P is a deeper, darker reflection on the state of modern society.
As with most successful sounds, the boys have a variety of influences from Ally's blues and old-school rock to Ben's love of punk bands such as The Jam and The Buzzcocks, to Jack's love of all rock. With early demos laid down in mid-December, the band have spent solid time together in recent months rehearsing and writing, and are back in the studio recording again very soon. They have a growing fan base and are lining up plenty of local gigs for the near future.
http://www.reverbnation.com/clownbreakdown
Last played:
The Grey Lady Music Lounge, Wednesday 7th March 2012
The Mud Bees, Sean de Burca, Clown BreakDown, Stray Dogs