Chris Parris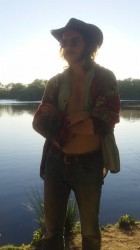 click to enlarge
Chris Parris is the lead singer and front man of local band Sarah Tonin, who have established themselves as one of the most original, psychedelic rock bands of the local scene. Being the main songwriter for the band, Chris has a large back catalogue to choose from and has been working on new material over the last few months for this solo project.
There are always too many influences to name but you may catch glimpses of Roy Harper, Nick Drake, Paul Simon and Neil Young in there somewhere.
Sarah Tonin now have their debut album 'Spinning Chaos' on sale which will be available tonight. They have several shows over the summer which you can find out about on their Facebook page.
http://www.reverbnation.com/sarahtonin
Last played:
The Grey Lady Music Lounge, Sunday 15th May 2016
Chris Parris, Riverhead, Hugh Kemp, Jono Harrison