Chantelle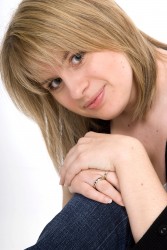 click to enlarge
Chantelle has been singing and dancing from a very young age. As a child and throughout her teenage years, she was involved in performing as a part of the Kent County Choir, a member of various stage schools and made an appearance at the West End's Dominion Theatre. During this time, Chantelle's main passion was always music and singing. At the age of 18, she auditioned for the Italia Conti Academy of Theatre Arts, where she had the opportunity to develop in song, dance and performance. Since graduating she has toured and performed with professionals in the music and theatre industry.
Over the last year, Chantelle chose to focus primarily on becoming a more accomplished solo artist and developing her songwriting. She has been working closely with Diverse Music, enabling her to record her first EP 'My Turn' which is available to be heard on her myspace page: www.myspace.com/chantellecurling
Chantelle is currently working on an acoustic album to accompany her EP which will be ready by winter 2009 ready for up and coming shows she has planned in her home county of Kent.
Her music has been well received by the media with airplay of her live acoustic set on Uckfield FM and press feature in the Kent On Sunday newspaper. Chantelle has also been enjoying taking part in houseband nights with The Original Songwriters in London. When she is not performing her own music, Chantelle sings with a function band at key events. Her main influences include Kelly Clarkson and Delta Goodrem, but uses her wide range of musical knowledge to bring a different edge to her own music.
Last played:
The Grey Lady Music Lounge, Wednesday 15th September 2010
Mystery Clarke, Chantelle, overbydawn, The Logan Wilson Band