Bowman's Layer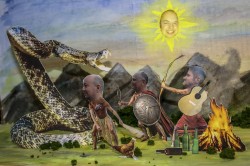 click to enlarge
Bowman's Layer are a merry band of musicians and songwriters with years of gigging and recording experience between them. Our songs are written merely for the pleasure of doing so and we blend different styles including folk, blues, soul and rock.
Nick Faulkner's distinctive and expressive vocal style is sympathetically complimented by a melodic blending of sounds perfectly suited to the songs. Whether acoustic or electric we follow where the songs lead us and whatever makes us grin. We write about real situations that we have experienced but also subjects that affect us all.
Chutz on guitars and Flavio on bass have been working together musically for more than 20 years now and Nick and Henry (percussion) have worked together extensively via a number of projects too. This leads to a musical understanding and sense of fun that is apparent in our music.
Currently working on our first album and adding new material to our set we are looking forward to performing many fun gigs and basically loving every minute of the process.
Last played:
The Grey Lady Music Lounge, Sunday 19th January 2014
Bowman's Layer, Marie White, Lily Denning, Andy Twyman