Ben Westwood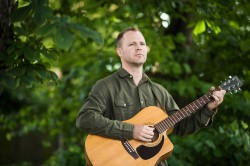 click to enlarge
Ben Westwood learnt to play the piano and guitar from an early age, and began writing songs as a teenager. He studied music in London but became disillusioned with the music business, channelling his creativity instead into writing. He worked for national newspapers in London and then travel guidebooks in South America.
Ben and his children's lives were turned upside down when he lost his wife Carolina to cancer in 2013. He began pouring his emotions into songwriting and the album Sing like your life depends on it was born.
Ben comments: "The past few years have been so tough, but I have always found music a comfort in life. This year, songs began flowing out and what started as an EP suddenly developed into an album of 15 songs.
"I was determined to make music that not only confronts the sadness and confusion of losing a loved one, but also contains positive messages of defiance, strength and hope. The album contains upbeat tracks and love songs, as well as songs that deal with loss and grief. I think people need real music with real emotion that comes from the soul, not the ego. Music that is about passion, not posturing."
The album blends pop, blues, folk, soul, rock and latin influences, with heartfelt lyrics, driving rhythms and strong melodies.
Visit his website for further information and to hear preview tracks from the album.
http://www.benwestwoodmusic.com/
Last played:
The Grey Lady Music Lounge, Tuesday 23rd August 2016
Ben Westwood, Jono Harrison, MODL, Cracks In The Land