Basheba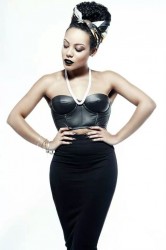 click to enlarge
Hailing from North West London, the beautiful & stylish Basheba brings us
a unique, combination of drum & bass, blues, R&B, Jungle and gospel.
Basheba has been perfecting her vocal style since a young age, so it's no
wonder that the likes of Rudimental & Lyracis asked to work with her.
Although Basheba was born and raised in London by her British Dad and
Bajan Mum, Basheba says she is 'inspired' by her Bajan roots and believes
her love of music stems from the passion the people of Barbados have for
music. Spending every school holiday in Barbados she feels she is as much
British as she is Bajan. She is now finishing her debut EP with producer
Dean Barratt (who Shy FX calls the "super duper engineer"), due for
release in mid 2014.
Basheba creates an evocative narrative in her music. She says, "A song is
nothing without a story. I'm a storyteller, I just tell my stories through
song." This storytelling inspired the artistic photographer Linda Blacker
to work closely with Basheba to create images that have grabbed the
attention of both music & fashion press alike.
Basheba's first single 'No More' has had online backing from SBTV, Mobo,
Vevo and many more. And Radio support from BBC London, Radio 1 Xtra and
Capital Xtra.