Alina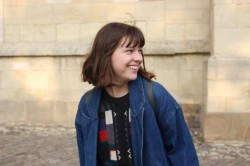 click to enlarge
For me music has always been a way to escape the world. I can remember listening to my father's songs as a child, dancing to the music of the Smiths and singing to whatever song was on the radio.
At age 5 I started having piano lessons but I got bored of playing other people's music quickly and started making up melodies on my own. When I started having voice lessons at age 11, I also started writing songs. This helped me a lot to get through a really rough part of my life later.
As my voice teacher always encouraged me to sing more outside of my classes, I started performing at school musicals, at relatives birthdays, in the streets and even at my own prom.
I would describe my music as folk-y acoustic pop with a lot of feelings and emotions in it.
For the future I hope that one day I can help someone else with my music as much as other artists were able to help me, when I was struggling in life.
Last played:
The Grey Lady Music Lounge, Sunday 25th February 2018
Alina, Arcelia, Steve Hewitt