Alex Van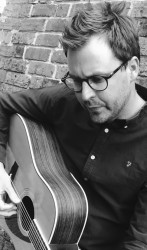 click to enlarge
Alex van is an indie singer/songwriter with a passion for writing honest and melodic pop tunes.
Growing up in Australia, at the age of 18 his first band 'Noogie' signed to Los Angeles based label Trauma Records, who had made their mark with 'Tragic Kingdom' by 'No Doubt' a few years earlier. Noogie toured and released albums in the USA and Australia, supporting acts including: Midnight Oil, Pink, Goo Goo Dolls, The Tea Party, and Garbage.
Van has continued writing and performing on and off during his 10+ years in the UK. He called Leeds home for 8 years, before moving south in 2013, and after a period of writing songs never heard outside of his bedroom studio, he's keen to get out and feel the buzz of playing live again.
Taking influence from a wide range of music, but being particularly inspired by artists such as: Elliott Smith; Crowded House; John Frusciante; Eels; Nirvana; Green Day; You Am I; The Vines; and Josh Rouse - Van's aim is to, 'connect with people, and inspire them the way music inspires me.'
Last played:
The Grey Lady Music Lounge, Sunday 16th December 2018
Guy Sharpe, Skippy Gonzalez, Alex Van