The Grey Lady Music Lounge, Sunday 13th August 2017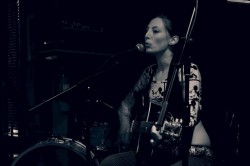 click to enlarge
Bea Everett is a 21 year old singer songwriter from Tunbridge Wells. She completed her BA Hons in Professional Musicianship at BIMM Brighton in June 2015, and has since been travelling, busking, and started her own Personalised Songwriting business (Beaspoke DesignerSong).
Bea started writing music at the age of 12 and has been performing at The Grey Lady and other venues since the age of 14. Her main musical influences include songwriters such as Joni Mitchell, KT Tunstall, Norah Jones and Katie Melua, but her music is mostly inspired by the people she meets and revelations that come from everyday life.
Bea's first EP, "The Woods" is available to stream and buy online from various stores such as iTunes and Spotify.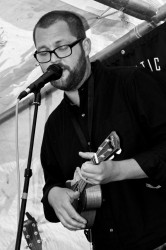 click to enlarge
My name is Steve Hewitt, I'm 29years old, and I'm a singer/singer songwriter based in Edenbridge, Kent.
My love of music came about after listening to Buddy Holly when I was 14, but my approach to music changed drastically when I heard David Gray's White Ladder for the first time; that's when I put the electric guitar down and bought my first acoustic guitar and started to write.
My aim has always been to write lyrics that have meaning and purpose that the listener can relate to and empathise with.
To best describe my genre, it would be acoustic soul pop, with hints of
blues/folk and indie.
My main influences started at the already mentioned
Buddy Holly, on to David Gray, Bob Dylan, John Legend and Fink.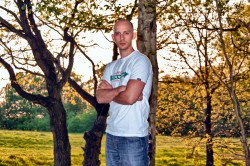 click to enlarge
James Medhurst has been in love with music since he got his first guitar at the age of 8 and intends to keep playing all the way up to 80.
After fronting the pop punk band Wayside Kings he has now decided to take his acoustic guitar in one hand, a cup of tea in the other, and explore a solo career.
James' style is mostly taken from the American alternative scene. His influences range from Counting crows, Taking Back Sunday, New Found Glory to Incubus, which he uses to fuse his own take of soulful pop rock.
His aim is to create a catalogue of uplifting songs that reflect the way he see the world.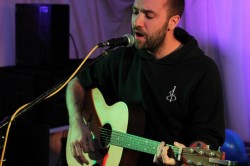 click to enlarge
Joe is the singer-songwriter behind popular local acts "Cyrano" and "The Ackerleys". His style combines rich vocals, poignant lyrics, catchy melody and folk/rock acoustic guitar. At the end of 2012, Joe toured with Level 42 backing Dan Clews. This included playing to full house at the Royal Albert Hall! He has just finished an album with Cyrano which will be released this year. He is also busy working on The Ackerleys first record. His solo set includes some brand new material plus a few stripped down Cyrano songs. Influences include – Elbow, The Beatles, Dawes, Jeff Buckley, Rufus Wainwright, Scott Matthews, Pearl Jam, Crowded House and Radiohead.