The Grey Lady Music Lounge, Sunday 29th July 2012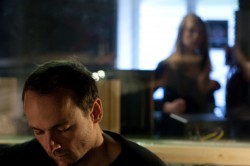 click to enlarge
Chiddingstone based duo Ant & Fie are Anthony Vicary (guitar and vocals) and Fiona Keeler (vocals & Piano.) Anthony was previously the frontman of local indie/rock band 'Catching Flies'. After five years of rigorous performing all over the southeast it was decided that the band had reached a natural end leading Anthony to put down his electric guitar and explore the acoustic side of rock music. With Fiona joining more recently, this talented duo have fused together to emerge as one of the most talented and highly respected acts at the show here at The Grey Lady. Their breathtaking vocals express creative and thought provoking lyrics coupled with crafted melodies which comprises elements of folk, blues and alternative acoustic rock. The duo enjoyed their radio debut earlier this year with a recent live performance of 'Tobacco Stained Guitar' on BBC Radio Kent. They have just released their debut EP entitled 'The Quiet'.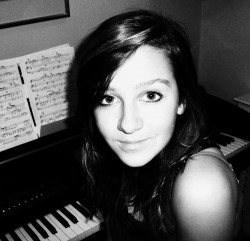 click to enlarge
I am now 18 and about to finish school and I have been gigging for almost 4 years. I began writing songs when was just eight, but hopefully my songwriting has greatly improved since then! Generally I have a very acoustic sound as it's just my voice and the piano; I like keeping things simple as I want my songs to be about the words and what I'm singing about. I can't really say that one particular artist inspires me but I love listening to singers such as Eva Cassidy, Birdy and Ed Sheeran. When it comes to writing a song I don't have a plan, normally a song will begin with me singing a random tune in the shower before running downstairs and finishing up on the piano.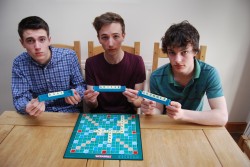 click to enlarge
The Shutdown was formed 4 years ago, from a small town called Crowborough, by three students who've grown to become good mates. The band is made up of Jed Long (lead vocals and lead guitar), Stephen Pugh (percussion) and Danny Jackson (the bass guitarist and backing vocals). It all started when Stephen and Jed were learning instruments and decided to start a band. Later on they found a bassist and became The Shutdown. They are now 16 years of age and their music has become an important part of their lives. They started off by playing mostly electric sets but have recently branched out into acoustic, which allows them to play a wider variety of venues such as The Forum, Rotherfest and many other venues for various charities and causes. They enjoy playing covers and originals and are always adding to their repertoire. They take their inspiration from bands such as Bombay Bicycle Club, Two Door Cinema Club, Arctic Monkeys and The Maccabees. They have been signed to Alati Records for just under a year and their first single "Lights On" has been distributed internationally on iTunes, Amazon mp3, spotify and many other distributors. They are hoping to record a new EP in the spring of 2012 and show off new tracks with a different style to appeal to a wider audience.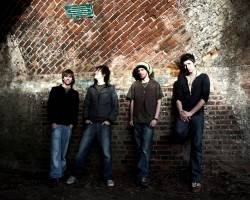 click to enlarge
Storm Engine is a british band that was formed in Horam, East Sussex, in late 2007 by brothers Charlie and George Baldwin. Fresh off the mark of their previous rock band, Jonas 3, they were eager to try something new based in funk, rock and pop. They also wanted to work in a band where everyone collaborated on writing the songs. George's role had always been that of a frontman but he wanted to take a step back, concentrate on the music and share the vocal load with someone new. A guitarist was also needed as at this point Jonas 3′s Andy Vickery had already moved on to play with Tunbridge Wells based band, Intraverse. Oddly, the brothers had met a guitarist at past gigs whom they had in mind for Storm Engine: Intraverse's own Wayne Brummer! Wayne was also looking for a change so, with what felt like a swap, the band found it's guitarist but was still short one singer. Charlie had met Ryan Barker at the Brighton Institute of Modern Music through friends and, after playing together for an end of term gig they kept in contact. Living round the corner in Heathfield and having just split from his previous band, Fall to Fiction, Ryan had been looking for a chance to do something funk/pop based and was only too happy to join up when asked. Initially believing the offer to be for a single song collaboration he was happy to find himself becoming the fourth and final member of Storm Engine.
The name came about after the first month or so. George was driving himself, Charlie and Ryan to an early practice at Wayne's grandma's mansion, Rotherhurst, discussing name ideas. 'Steam Engine?' said Charlie, jokingly. 'How about Storm Engine?' came the reply from Ryan in the back seat, and after a brief silence and a subsequent 'yeah it'll do!' from Wayne, Storm Engine took form. Right off the mark George and Charlie had achieved what they had set out for: a band who collectively wanted to try something new and all had something to bring to the songwriting table.
About 18 months after forming the band's Myspace page was discovered by Roy Hendrickson, a prolific producer based at Avatar Studios in New York. Roy works closely with UK based Genesis producer David Hentschel and together they contacted the band and offered to mix a few tracks. This progressed to a working relationship and the producers and Storm Engine are now collaborating in the search for a record deal and the recording and releasing of new songs.
Today Storm Engine continue to write rock/pop/funk music, play gigs around the South East of England and grow their fanbase. Where will Storm Engine be in a year's time? You decide!