The Grey Lady Music Lounge, Wednesday 25th July 2012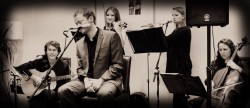 click to enlarge
Paul's music is best described as an atmospheric fusion of alternative & pop with a unique classical twist! He composes and performs both instrumental pieces and songs. With influences such as modern day artists; Elbow, Rufus Wainwright, Zero 7, Pink Floyd, Turin Brakes and drawing inspiration from composers such as Einaudi, John Barry and Samuel Barber; singer-songwriter Paul Dunton offers something different. With national reviews hailing the breath taking live sound and sheer originality and atmosphere of his works, The Tunbridge Wells based performer has firmly made his mark on the musical landscape. Paul cites his fellow band members as a key reason for his growing success. "Technically, I am a songwriter with a band, however it's really not like that, we are a very close, united team. I feel incredibly lucky to be surrounded by a group of incredible musicians, who are also great friends of mine. I owe so much to them". Paul's string & flute arrangements are often composed by Miriam Evans, Jenny Maslin, Paul himself, Becky Andrew and Hazel Ross. Paul's Ensemble and Orchestra are regularly performing both nationally and internationally with encouraging success and were recently featured on BBC Radio 2 by Joan Armatrading with a selection of interviews and airplay of Paul's song 'Don't Forget'.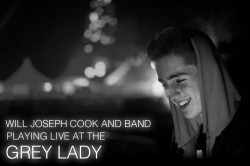 click to enlarge
"It was a great show, Will has some big talent" – Dave Rowett, London's Barfly
Will is turning 16 at the end of May and been garnering the attention of the public and industry in equal measure, for the last year or so. He's been a regular feature on the live scene in Kent for a while, and there are big hopes for him from grass roots supporters.
He is lyrically beyond his years with a voice full of soul and can nail a song like the best of them. And he steps up to the live challenge as well. He supported Tom Odell in Manchester earlier this year and Tom subsequently tweeted about how impressed with Will he was.
He is currently in the middle of GCSEs after which he's in the studio writing, inbetween more live gigs around the country over the summer; there will be a new tune available for download in July.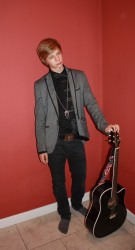 click to enlarge
Louis Nevison is a precocious talent and at the age of 15 has already fronted two bands as a lead singer and lead guitarist. Huffy Wilson (his latest band) were very popular amongst teen and pre-teen kids in the area, and certainly whetted Louis' appetite for success in the music industry. Currently performing solo, Louis has focused on becoming a singer/songwriter and regularly performs at many London venues.
Drawing on influences including The Smiths, Morrissey, The Cure and Radiohead, Louis also takes inspiration from more modern artists such as Brand New, Neutral Milk Hotel and Placebo.
Louis has put together a debut set for The Grey Lady and he hopes this is start of a long and successful journey.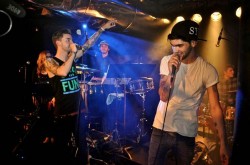 click to enlarge
Electro hip-hop singer/rapper Lee Willz collaborated with producer Trademark in 2009 and together launched their debut album 'Against Your Willz'.
The duo's first single 'Friday Night' featured on Sky music Channel AKA and Stars TV, and aired on BBC Radio Kent and Kiss FM as well as in Australia.
The previous year has seen Lee Willz & Trademark shoot two of their hottest videos in Ibiza on a packed out Pukka Up boat party; previous events have been filmed for MTV.
Their local school tour and workshops led them to an army of avid followers and supporters.
Lee Willz, Trademark and The Band have played a list of gigs and shows in Camden, Leicester Square, Brick Lane and all over Kent and Sussex, now with an amazing electric live sound featuring a bunch of talented musicians who headlined the comedy stage at The V-Festival 2011. This year has seen them presenting and performing at The Try Angle Awards, The Modified Nationals, Surface Festival, The O2 Islington and the main O2 this month.
The duo are soon to release their highly anticipated second album "One For the Road". Influenced and inspired by sell out artists Drake, Tinie Tempah, Eminem and Lil Wayne, the duo are attacking the music industry with bags of energy and enthusiasm!