The Grey Lady Music Lounge, Sunday 24th June 2012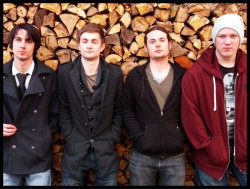 click to enlarge
Formed in mid 2010 The Alex Beharrell Band is a team of Kent musicians fronted by singer/songwriter Alex Beharrell who as a solo performer has become well known in the Tunbridge Wells music scene over the years. The band is formed of Alex Beharrell (vocals/acoustic guitar), Chris Rouse (Lead guitar), Chris Thrope (Bass) and Daniel Biggs (Drums). Now armed with powerful and dynamic vocals, storytelling lyrics, and a variety of new songs, Alex has expanded and developed his music by introducing a full live band to the mix. With each member adding their own creative flair, Alex and the band have truly produced their own unique sound and demanding stage presence.
After winning a short one-album recording contract Alex and the band hit the studio to record their debut album 'WHITE AND GREY'. Since the release of this The Alex Beharrell Band have enjoyed good album sales and sell-out performances all over Kent and London. Fresh from recording their second album 'BOTTLED UP'. With Pop, Rock, Jazz and Fusion influences throughout, The Alex Beharrell Band have outdone themselves again by bringing you an eclectic mixture of song styles.
So with a new album and a new feel, Alex and the gang feel its time to go on TOUR!!!! With a full summer of gigs and festivals the 'BOTTLED UP TOUR' will be a fantastic experience for all music lovers. It's fair to say that The Alex Beharrell Band are slowly becoming one of Kent's best loved acts.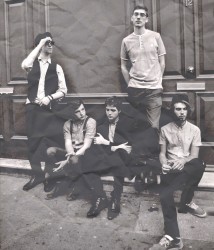 click to enlarge
THE BAND

Ross Wrongen - Lead Vocals/Acoustic Guitar
Sam D Wrongen - Drums/Backing Vocals
Nils O'Wrongen - Bass/Double Bass/Banjolin
Sam G Wrongen - Guitar/Banjo/Backing Vocals
Timmy Wrongen - Hammond/Accordian

They've played...

* Camden Crawl 2010
* Ronnie Scotts, London
* The Cavern Club, Liverpool
* 02 Academy, Islington
* Barfly, Camden
* The Dublin Castle, Camden
* The Fly, London
* Bar Music Hall, London
* The Windmill, Brixton
* Tommy Flynns, London
* Camden Rock, London
* Absolute radio to 1.2 million listeners!!
"That Magic Feeling" and "Summer Sun" have already been nominated for best pop song at the Exposure Music Awards, an organization dedicated to promoting the best new bands in the UK. Pepsi Max used the videos the band made for Live in the Loos (Ep) as a sample of what they were looking for in their Max It Legends competition in 2010. They also used pictures of the band playing live in their online adverts for the competition.
British Clothing firm Jack Wills have used two of the bands track in online adverts.

Great indie pop/rock band, you'll see them in a number of forms. Whether it's their electrifying full band show or their stripped acoustic setup with banjo, accordian and double bass... you're in for a load of fun with this band!

If you like what you see/hear, feel free to get in touch with the band via Facebook or by email at info@rossandthewrongens.com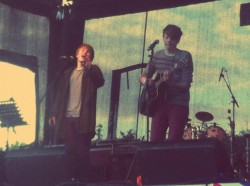 click to enlarge
BigFishLittleFish formed in 2008 and, having swiftly moved in on the Tunbridge Wells music scene when they were awarded first place in a local song writing competition, have been making a name for themselves in the area ever since, playing anything from local weddings to music lounges, and from pubs to open-air gigs in Barcelona. The band comprises of Eden Fish (guitar, piano and vocals) and Ollie Bream McIntosh (lead vocals) and their buoyant enthusiasm and polished confidence combined with infamous banter and light hearted style make for a wholly enjoyable performance. They started writing their own music the moment they joined forces and have honed their collective crafts for over four years, which has resulted in a distinctly striking and attractive acoustic sound. The pair's influences are wide ranging: soul, funk and jazz through folk, blues and indie pop. The duet recorded their first four-track EP in Southampton last summer (which is on sale today), and is looking to spend some more time in the studio in the coming months. Still writing and developing their act, they have high hopes for the future and are always looking for opportunities to perform and gain esteem in the musical world. Along with original material, they perform an endless list of covers, similarly spanning in variety – from old blues classics to current top ten hits, always reworked slightly to add something new and deliver an increasingly recognisable BFLF punch.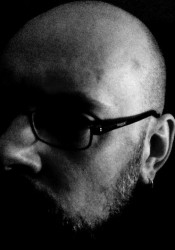 click to enlarge
Alternative rock act Nod began in 1993, as a solo acoustic show by Peter Owden in East Grinstead, West Sussex performing in bohemian coffee shops in Brighton and London. Transforming the set to encompass a full live band resulted in the first mini-album "Luck Point" (1997) via their Dirty Ballerina record label, followed by performances as part of the Sounds of Brighton event of multiple Brighton venues in 1998, which spread the word of Nod successfully.
A live EP followed and then, in the year 2000, Nod's dark and thoughtful style was stamped upon the release of "God Rot Your Tongue". A collection of introspective songs with lyrics described by Classic Rock magazine's four star review as "satisfyingly voyeuristic".
Peter embarked on various musical and film making projects throughout the following decade. Nod returns to the stage and the studio this summer with the forthcoming album "The Abortive Gulf" via Kneecapped Records, supported by live shows and acoustic sets with Tunbridge Wells' well known guitarist Joe De Kwant Stoner.