Rachael Stalker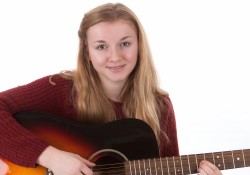 click to enlarge
Rachael Stalker is a sixteen year old musician from Tonbridge. Her main influences are acoustic folk musicians such as Lee Ann Womack, Birdy and Mumford and Sons.

She started learning piano and singing from a young age and picked up the guitar later on. Over the past couple of years she has started writing and performing her own music in the local area. She has competed in various competitions, allowing her to perform in venues such as Portsmouth Guildhall.
She has also performed as part of vocal groups in St Lukes LSO Barbican and the Old Royal Naval College's Chapel in Greenwich.
Rachael's ambition is to study at a contemporary music college to further her experience in the music world and develop her song writing skills.
Last played:
The Grey Lady Music Lounge, Wednesday 5th December 2018
Peter Taylor, Rachael Stalker, Parkhurst